Safelocks locks and padlock shop
Safelocks is the No1 UK Security Locks supplier unlike our online competitors we specialise in Locks only. We are professional locksmiths with expert knowledge and advice.
For 18 years Safelocks has been supplying safes, locks, handles & hardware throughout the UK and Europe. Our pride is in supplying and fitting only tried and tested products of all well known security manufacturers and we are able to offer competitive discounts for commercial customers. Current customers include, Hospitals, Local Authority, Military, Museums, Communication sites, Police buildings, Schools and Factories. Safelocks online shop features most popular brand name locks, quality & prices second to none. Our catalogue has been streamlined for efficiency, if the safe, lock or hardware item is not listed please email us your requirements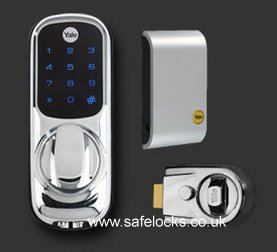 Yale Keyless Digital Lock
New! Replace your old Yale nightlatch with a keyless lock. Designed to replace a standard nightlatch. Supplied complete with Yale Y3 nightlatch.
The Yale Keyless Digital Lock brings many of the same advantages, but can be fitted to most timber front doors just like a conventional night latch.
Yale Keyless Digital Lock lets you unlock your front door by entering a simple code. No keys, no hassle, no fuss ? just keep a PIN number in your head! You can even create a temporary code to give other people access to your home when you want to, and delete that code just as easily. Click here for more information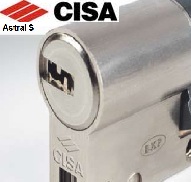 Cisa Astra S anti bump and snap resistant euro cylinder locks
Looking for a bump proof lock?
BKP Bump and snap resistant device fitted as standard
Patented laminated steel core made of 6 rigid segments and 1
flexible segment extends throughout the entire length of the
cylinder and provides snap resistance to both flexural and pulling
test. The core is visible at both ends of a double cylinder to
provide an additional visual deterrent.
10 Pin key bitting system produces over 1.6 million key differs
Mushroom shaped driver profile provides "pick resistance"
Hardened steel pins and drivers throughout protect from drilling
and give high durability
Brass cylinder body and plugs, satin brass or satin nickel
finish as standard
Self lubricating projecting DIN standard sintered steel cam
provides push resistance to prevent the cylinder being forced out
of the lockcase
Clutch cam fitted as standard to allow operation even if the key
has been left in the other side
Phosphor bronze springs
Hardened steel inserts in the body & core prevent drilling attack
ICIM EN
Click here for more information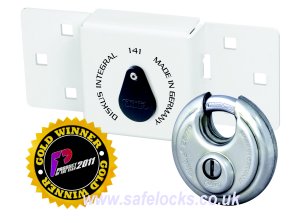 Abus 141/200 Diskus Integral Vanlock
Abus 141/200 Diskus Integral Vanlock
Can be used on any outward opening double doors eg. garages, sheds, vans, trucks.
The Abus 141/200 is a multipurpose hasp and staple with all round protection.
Strong steel construction giving maximum security.
At the heart of the Abus Integral Vanlock is an original Abus Diskus 26/70 Padlock.
The Abus Diskus 26/70 is stainless steel with anti-drill plate protection.
The Abus 141/20 Diskus Integral Vanlock is available with or without padlock.
Pictured in white finish the 141/200 Diskus Integral Vanlock is also available in black
Can be used with any Abus Diskus 70mm padlock keyed alike or masterkeyed
114/20+26/70 Diskus Inegral C is supplied complete with Abus 26/70 padlock with 2 keys.
114/20 Diskus Inegral C is supplied with padlock.
Click here for more information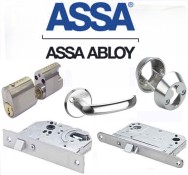 ASSA Locks, Modular cases, Handles, Assa cylinders and accessories
ASSA lockcases are available for all types of doors. Lock cases and cylinders are available in different dimensions. The innovative modular lock design offers a vast range of functions, from standard latch locks to high security deadbolt locks, split follower locks and emergency escape locks.
Click here for more.
Chubb Locks M3 Highest Security Cylinders
Full range of cylinders made to fit all lock cases and rekeyable padlocks. Chubb Locks M3, combining the best of Chubb Locks with engineering innovations that take security to the next level.
Chubb offer the highest possible level of protection against unauthorized key duplication. It's virtually impossible for someone to get a copy of your keys without your permission. Only Chubb security professionals are authorized to copy your key, and only with your consent. Patent protected until 2021 Certified to the new standard UL437, CEN6, BS EN 1303 and the first product to obtain ANSI/BHMA A156.3 Level A.
The Chubb M3 locking system cannot be unlocked using the new lock opening techniques, as the pins rotate as the key is inserted.
Cylinders and padlocks can be keyed alike or masterkeyed.
Union (Chubb) 1K11 Battleship robust heavy duty padlock

£113.99

Union 1K11 Battleship robust heavy duty padlock
Close shackle tough padlock for use on security applications
6 lever mechanism, key to lock, key to unlock
Non-key retaining
Hardened steel unsprung shackle
Keyed to differ supplied with 3 keys
Anti Saw, Force Resistant, Anti Pick, Torque Resistant
Shackle type - Close
Shackle diameter - 12.5mm
Shackle clearance - 17mm
Fit with the Chubb padbar 7007 or 7009
Extra keys £4.50 + vat using Union K198 1K11 Battleship Genuine Blank
find out more

Abus 65/50 KA 503 Brass Padlock

£11.04

Hardened steel shackle. Tough, reliable Padlock,
Double bolted
Quality pin tumbler mechanism
Self-locking mechanism
Width: 50mm
Shackle Diameter 8mm
Vertical Clearance 29mm
Horizontal Clearance 28mm
Padlock is keyed to key number 503
find out more

Squire CP50 combination padlock

£19.19

Open shackle version.
Die-cast steel body.
Hardened steel shackle.
Corrosion resistant ideal for outdoor use.
Recodable 4 wheel combination.
Body Width 48mm, Hieght 55mm,
8mm shackle with 22mm Horizontal clearance.
This model has a 26mm vertical shackle clearance.

find out more

ASSA F501 5PIN SPECIAL PROFILE outside lock

£28.43

ASSA Flexcore Medium security lock patented cylinders available in all standard shapes.
The ASSA Flexcore range of cylinder Locks offer patent-protected medium security and incorporates the latest technology to ensure significant pick resistance.
Patented keys and cylinder mechanism.
Heavy duty keys made from hard-wearing nickel silver.
29,000 usable differs available per key profile.
Supplied with 2 keys
Please email us for pricing of keyed alike, masterkeyed cylinder locks or extra keys.
Body length 25.5mm
Extra keys cost £8.00 + vat each
find out more

Briton 2003 SES Door Closer

£66.43

Briton 2003 overhead closer
EN1154, fire rated 2 hours
Size 3
Dimensions:249L X 48W X 59D
Adjustable closing speed
Max door weight: 60kg
Max door width: 950mm
find out more

Union 2x6 Oval Double Cylinder

£26.02

5pin Union oval cylinders for use with Oval profile lock cases.
Gives key access from both sides of a door.

find out more

Chubb cylinder pull 4LP rim brass For 4L67

Squire CP50CS combination padlock closed shackle

£23.86

Closed shackle version.
Die-cast steel body.
Hardened steel shackle.
Corrosion resistant ideal for outdoor use.
Recodable 4 wheel combination.
Body Width 48mm, Hieght 82mm,
8mm shackle with 17mm Horizontal clearance.
This model has a 22mm vertical shackle clearance.

find out more

Abus 65/50 KA 6505 Brass Padlock

£11.04

Hardened steel shackle. Tough, reliable Padlock,
Double bolted
Quality pin tumbler mechanism
Self-locking mechanism
Width: 50mm
Shackle Diameter 8mm
Vertical Clearance 29mm
Horizontal Clearance 28mm
Padlock is keyed to key number 6505
find out more

Union ex CHUBB 4L67E BS3621 High Security Rim Lock

£95.98

Union 4L67E BS 3621 High Security Rim Lock
Kitemarked to BS3621
Recommended by Insurance companies and the police
For timber doors from 38 to 57mm thick, hinged on the left or right and opening inwards only
Suitable for glass panelled doors
Automatic internal and external deadlocking
Key operation from the outside
Key lockable knob operation from the inside
Reference 4L67E
Backset 60mm
Cylinder 10 disc Ava mechanism
Keying Maybe supplied to differ or to pass
Key Blank Number B-K734-M
Keys supplied 3 keys
Hardened steel 20mm deadbolt which automatically deadlocks on closing the door
High security cylinder
Hardened steel plates and pins protect from drill attack
Resists torque attack
High level of protection against picking and manipulation
Drill resistant, Saw resistant, Force resistant
Door Pull: 4LPEB Door Pull is also available for use with the 4L67E High Security Rim Lock
Extra keys are cut using genuine Union AVA keys £7.00 + vat each

find out more